Aardwolf Server Move:
Aardwolf moved to a new server tonight - the domains should update shortly but the new I/P address is 23.111.136.202. The domain 'aardwolf.net' can be used to reach the server immediately as DNS on that was updated weeks ago.
Other than a general technology refresh this server will allow us to experiment with 'instances' and some other ideas we haven't been able to touch because of memory constraints on our previous server.
---
Aardwolf Update - January 28th 2017:
Quite a few unrelated but important changes this reboot. The list is below:
There is now a 'who wanted' option.
The speed at which the Navigator "Timeshifting" spell reduces lag is now based on stats and is generally lower than before but now has 100% uptime. At max stats it is very close to what it was before so this is a minor buff overall. Navigator is clearly not one of the classes most in need of attention - this was a fairly quick fix to help depend on recoveries less, nothing more than that.
The 'parry' skill has been modified so that proficiency in your own weapon is far more important than the attacker's weapon. This means that it is now possible (but still more difficult) to parry attacks with weapons you don't know.
When dying in an epic area your chances of losing a stat have been greatly reduced. We have not removed the chance completely but it's about 10% of what it was before the change
The starting cost of a class change is now 5,000qp and it will decrease 100qp per day over 50 days until you reach and eventual cost of zero. The previous 2,000qp minimum has been removed.
The way daily prayer reset tokens work has been changed so that they no longer reset your original timer. For example, the means that you can use a token with 3 hours left on your timer and the timer will still be 3 hours. Note that when you use a token it now does the new daily blessing immediately rather than simply resetting the timer - this was the only way the new timer could work.

This also opens the potential for being eligible to receive a new DB while you already have effects from the previous one (you use a token close to original expire time). If this happens the game should warn you and require a 'confirm' option to overwrite the previous blessing.

Ambush will now completely ignore the HARDCORE flag - this means that you can only ambush a person in a room if you would be able to attack them normally in that same room. OPK and all other flags (should) work as before.
The OPK flag now shows in 'whois'.
The 'keyring data' option now shows the actual color codes to make it consistent with invdata. If you want to see the actual colors, use 'keyring data ansi'. Made this same change to the 'vault data' command.
There is now a 3 second period after a successful backstab during which you can't flee. This closes a loophole with quickstab being able to backstab (no lag), flee, and repeat for each mob in the room with no delay. I did not add the delay to 'retreat' as retreat already has a skill delay. So now we have a 'no flee' recovery maybe it should be set for a while when you initiate pk on someone, or maybe not, just a thought…
---
Info Channel Rewrite / New Filters:
The way that the 'info' channel works has been redone. If you type 'info' now you will see a matrix of settings for on/off on each type of message but also for being able to make each type of message include friends or clan members only.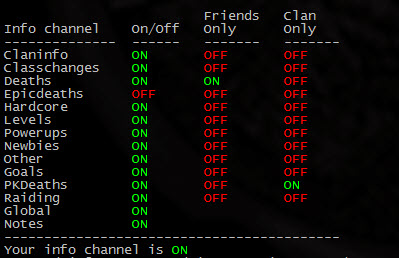 If you set both options then friends _and_ clan members will show, not only people who are both. If you are not in a clan at all you'll only see the 'friends' column. The previous 'clanonly' filter is no longer used - if you had that set then your levels, deaths and powerup info channels have been set to clanonly.

  To change options, Use the syntax:

       info [channel] [friends] to toggle on friends only.
       info [channel] [clanonly] to toggle clan only options.

  You can also abbreviate these 'fr' and 'cl'.

When you view history for info you now view each type separately. You do see everything, not just what was filtered and shown to you. The syntax is:
info -h [channel]
The 'channel' value is any of those shown when you type 'info' with no arguments.
Messages that previously went to info and couldn't be filtered such as marriage, season changes and double exp are on a new 'info global' setting so there is probably some clean up to do between this and 'info other'. The 'notes' info channel is also global as that is based on whether you are subscribed to the board not who posted it.
---
Bugs Fixed in this Reboot:
When PK was changed to not create a corpse that was for convenience only and rot-death items were still supposed to have had the timer set.
This also introduced a bug with clan keys and raid items not being removed in a PK death, including a suicide. I (hopefully) fixed this in a way that does not cause rot-death items to be removed in previous scenarios that didn't produce a corpse such as morgue rooms, but needs testing. Sorry it took a while to fix this pretty serious bug, was super buy over the holidays and it was a fairly complex fix.
Fixed the 7 digit note numbers on personal - will correctly loop at 999,999 in future. Not going to fix the exiting note numbers so it will be 'untidy' for a little while until those personal notes expire.
Fixed a bug with the default 'elemental focus' type not being used correctly.
The 'pkstats' command was giving incorrect message for non-clanned or NOPK clanned players with OPK flag. Now fixed.
Fixed a bug with items carried and weight carried when a player dies to a mob with items on the keyring.
There was a bug in campaign rewards with practices not counting in your total for rebuild. For someone who does a lot of campaigns, this could result in negative practices showing in rebuild stats.