Location: Home / Play Aardwolf / Client Plugins
The following plugins are available in the standard download:
The stat monitor plugin provides a separate window in which to view all your stats and wealth. This window is continually updated as your stats change.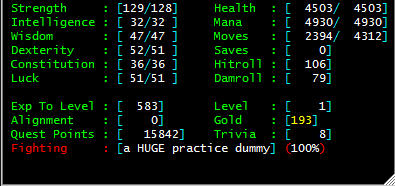 There are no additional commands to this plugin - the right click menu allows you to change the font and reset back to the default. To disable the stat monitor window and disable the plugin; see the FAQ item on how to disable a plugin.
The status bars display your health, mana, moves, experience to next level and alignment. If you are in combat, enemy health is also shown.

Increasing the width of this window resizes the status bar length. The right-click menu also includes options to turn on/off each bar, set their colors, change the font size and hide the labels. The 'unstack bars' option puts them horizontally next to each other. Note that you need to right-click in the area outside of the actual status bars to access the menu.
The screenshot below shows the status bar unstacked and extended to cover the bottom of the screen.

The map window redirects the Aardwolf in-game map to a separate window in the client: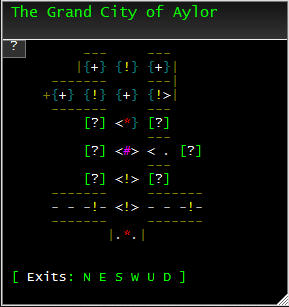 The right click menu gives options to show or hide coordinates, change the font and reset the defaults. Hovering your mouse pointer over the '?' in the top left corner will show a map legend.
If you would prefer to see the map in your main game window just close the map window and disable the plugin. See the FAQ item on how to disable a plugin.
The graphical mapper plugin provides a searchable map of your immediate area and has many options including the ability to zoom in and out, search for specific rooms and bookmark rooms. Full details on the mapper can be found at mud mapper wiki page.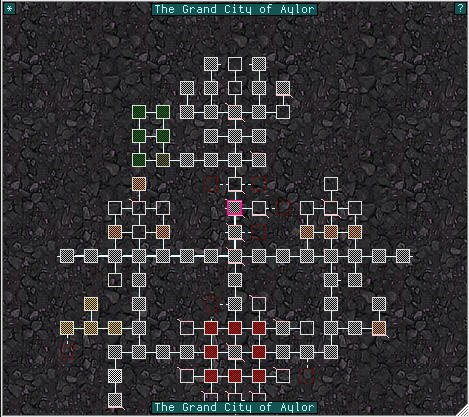 This moves a copy of all chat to a separate output window.

By default chat is sent to this window and your main game window. If you prefer to have communication with other players sent only to the chat window, use the 'turn echo off' option on the right-click menu. If you prefer to have communication sent only to the main game window, close the chat window and disable the "chats" plugin. See the FAQ item on how to disable a plugin.
The right-click menu also contains options to add timestamps to the communication log, capture some additional information, log chat information to a file and copy all chats to clipboard.
There are some additional plugins included in the client download that do not run in separate windows but either help other plugins or have some other effect:
Copy_Colour_Output: This plugin allows you to copy/paste using Aardwolf color codes ... use ctrl+c to copy normal and ctrl+d to copy with colour codes.
GMCP_Handler: This plugin manages communication between Aardwolf and the client and should not be removed.