A new command was added to Aardwolf MUD today that shows a summary of connections sorted by MUD client. Client is determined using the telnet 'ttype' option.
Here's a screenshot of the summary at time of writing: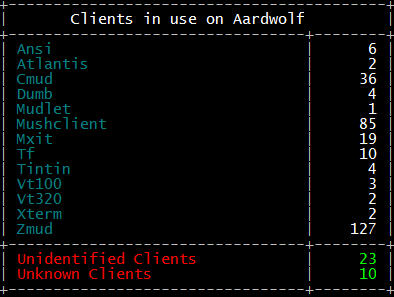 Most of the clients in the 'unidentified' category are returning NULL. From asking the players connected, this seems to be a mix of JMC, GMUD, Rapscallion and various telnet combinations.
Most of those in the "unknown" category are covered by "screen" which seems to be various forms of linux telnet in use by a player who logged in then used 'screen', a few where the value returned is actually the literal string (null) a handful of players who customized their ttype.
I am surprised by the relative absence of Mudlet, although that is a fairly new client. Also expected Mushclient to be higher, although it does still have the highest count of any actively maintained client.